Prices & booking
We have 6 rooms. Three rooms are in the main house and have available air-condition: one self-contained, two with shared bathroom. Two self-contained rooms in the big bungalow. One self-contained room in a small traditional style bungalow. There is a well equipped communal kitchen in the main house for all guests – as well as spacious dining and sitting areas both inside and outside, downstairs and upstairs. All rooms have bed linen, mosquito nets, towels and fans.
You are most welcome to spend some days,weeks or even months at our friendly guesthouse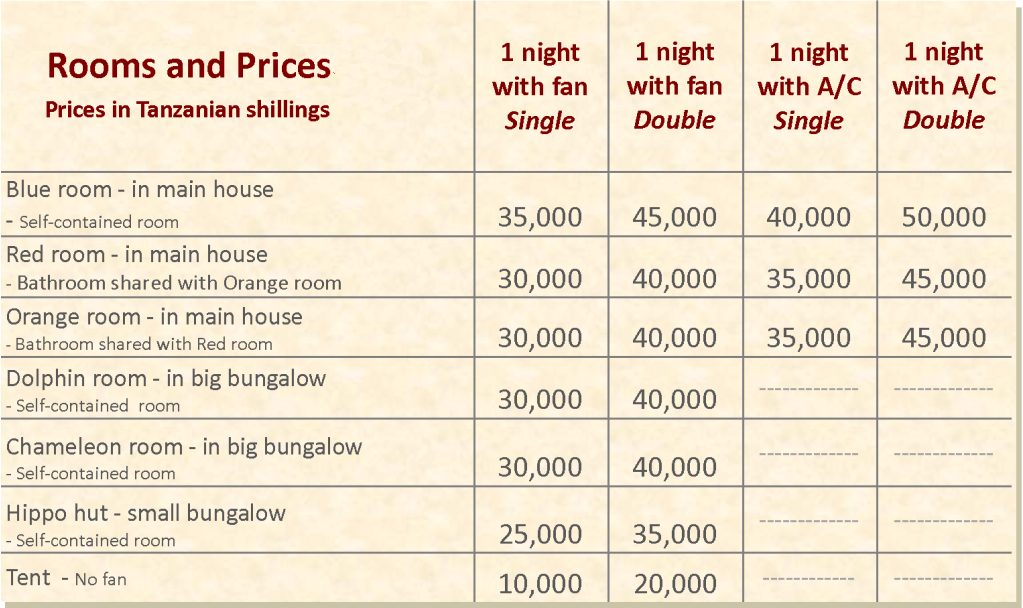 *Chameleon room can fit extra bed at an addition of 10,000 TZS
Discounts available:
10% discount for staying more than a month (30 days)
15% discount for staying more than 3 months (90 days)
20% discount for staying more than 6 months (180 days)
Payments (Tsh/US$/€) done at the guesthouse.
For bank account payment please contact us.
Please note! If you need to cancel your booking, please let us know well in advance so we do not have to refuse other bookings. We have some experience of people booking and not showing up. This is unfortunate for other people who want to make a reservation – and for the income for our organization that assist totally abandoned and other vulnerable children here in Bagamoyo.
Please do your booking or inquiry by email to
guesthouse@moyommoja.org
(Contact forms are down at the moment)