How to get to Bagamoyo
So you want to travel to Tanzania and peaceful Bagamoyo – and maybe stay with us at Moyo Mmoja Guesthouse? – It is not that difficult at all to get here!
Many airlines have flights to Dar es Salaam International Airport (See below). From the airport to Bagamoyo it is roughly 1 – 2 hours drive by car, depending on the time of day and the traffic. Moyo Mmoja Guesthouse can arrange for a pick-up at the airport at a fixed price. Other means of transportation is regular Taxi (prices depends on negotiation), or regular daladala – local minibuses.
We can help arrange for transport from Dar es Salaam. We do not have our own car service but if given a notice well in advance we can help you to arrange transport from Dar airport, harbour or Ubungu bus terminal. The trip is secure, the driver knows where to go and the price is more or less the same as regular Taxi.
– Traveling around in Tanzania and to Zanzibar, see below.
The daladala are of course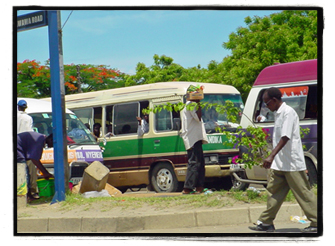 the cheapest option and you can get to Bagamoyo for US$ 2 – 3 in travel expenses, but it might take you several hours especially in rush hours. This way of traveling all the way to Bagamoyo is not advisable for others that the very well experienced traveler with time to spare and wide awake after the hours on the airplane. On the other hand traveling with the daladala to and from Bagamoyo and in Dar es Salaam after being «culturally acclimatised» is a good way to experience a part of real Tanzanian life up close. In Dar it is seldom any problems but be aware that the daladalas drive rather fast on the road to and from Bagamoyo and accidents do occur from time to time.
If deciding to travel this way you will have to walk out of the airport area to the main road and try to stop a small bus (daladala) going to city centre. The city centre is to the right when you have the airport at your back. Remember that they drive on the left side of the road in Tanzania, so you will have to cross the road. Look for people waiting for a bus and join them. You might as well try to ask about the buses to town. The daladalas are often already loaded with people going to town, so you might see some busses passing before you can get on to one. Mind your luggage – most likely they will throw it on the roof if it is possible or if you are lucky you will get it inside somewhere. Are you traveling light then this might work well.
Make sure you take a bus that goes to Posta (post office) – which is the city centre – or if you are lucky and the buses run from airport area, take a bus straight to Makumbusho / Mwenge bus stand. Ask around: daladala mpaka Makumbusho? If ending up at Posta ask around for the bus for Makumbusho / Mwenge, it's around or arriving soon. Be sure to arrive at Posta well before rush hours in the afternoon as it will be difficult to get on to a bus and you will have to wait for an hour or two or three – or you'll have to do like the locals: fight your way on to a bus. Might be faster and at least more comfortable with a taxi – especially with luggage.
Arriving Dar es Salaam with boat from Zanzibar? It is not far to walk to the bus stand at Posta (described above), but it can be wise to take a taxi for the 2-3 minutes it takes instead of walking around in the crowded down town area with your back-pack or suitcase, especially if you do not know the way. You can also negotiate a price for taxi straight to Makumbusho / Mwenge (described above) after asking him wich station has the buses for Tegeta/Bagamoyo these days. If deciding to take a taxi you will not need any assistance from the «hang-arounds» at the port. Instead go straight to the left outside the port houses and across the street where many taxis are waiting.
Arriving at Makumbusho / Mwenge find the bus for Bagamoyo or bus for Tegeta and change bus there. At Tegeta, ask the ticket guy for the bus for Bagamoyo. The daladalas to Bagamoyo / Tegeta do not leave until they are full, but make sure you get a seat by an open window (no A/C:), have a bottle of water at hand, and make sure that your luggage is secured if on the roof or in the bus. There is seldom any loss or theft of luggage on these buses. Be more aware of pick-pocketing at Makumbusho / Mwenge and Tegeta – don't look like a misplaced stranger, stay cool and familiar – it might be many people around the buses making sure they get on the first possible bus. People are nice but perhaps a bit shy towards foreigners when traveling this way because not many tourists do. The daladala drivers and cash collector is rough guys though, and they don't provide much «extra service». Take it as it is and remember to have easy accessible change for your tickets.
Arriving at Bagamoyo bus station («stendi«), get to the main road by the petrol station and the post office, turn right and walk up the small hill for a few minutes. Take the first dirt road to the left and walk another few minutes until you se the «Moyo Mmoja Guesthouse» sign. Its a bout 10 minutes walk from the bus station – or you can take a Pikipiki – motorbike taxi (about 500 – 1000 Tshs daytime), or a Bajaji – auto rickshaw/three-wheeler (about 1000-2000 Tshs).
Some airlines flying to Dar es Salaam, Tanzania: Emirates Airline, Turkish Airlines, KLM, British Airways, Swiss Air, Qatar Airways, Ethiopian Airlines
Getting around in Tanzania:
To travel to other destinations in Tanzania from Bagamoyo, you will have to go back to Dar. Looking at the map you will see a road (it's just a dirt road) going north from Bagamoyo intersecting with the main road going north in Msata. This is just a small place, a crossroad. You might be lucky to get on a bus going north if you arrive early in the morning. Most likely you will be stuck there.
Buses for all parts of Tanzania runs from Ubongo bus terminal in Dar es Salaam. Tickets have to be bought in the offices there or for some companies also in downtown Dar. It is advisable to buy tickets in advance. Most buses runs early in the morning. Riding the long distance buses after dark is not advisable if at all they run to your destination. It is recommended to travel with the first class coaches. They are most reliable and tend to drive slower (which is desirable). These include: Fresh Coach, Scandinavia Express, Dar Express, Kilimanjaro Express.
Boats to Zanzibar departs from the port close to downtown Dar es Salaam. The cheapest option is Flying Horse. This is the slow boat and takes about 4 hours from Dar to Zanzibar. It leaves Dar daily at noon, and returns from Zanzibar daily at 21.30 and arrives Dar early next morning after anchoring up outside mainland for the night. Non-residents have to buy the first class tickets and mattresses will be provided. Going with Flying Horse at least on the way to Zanzibar is a great experience since this is a larger boat with many people on board. Remember to take your sea sickness pill. The faster boats use approximately 1.5 hours and runs several times during the day. See e.g. www.zanzibar.cc for information.
Domestic flights: see e.g. www.flightstats.com for departure times and more.
For the train services see sites like: www.seat61.com and the official site for TAZARA, www.tazarasite.com and www.trl.co.tz.
Trains are going from Dar to Mbeya and continuing to Kapiri Mposhi in Zambia. From there you can change train and continue traveling in Zambia. Another line goes west to Kigoma with possibilities to change train for Mwanza in north by the Victora Lake. The Tanga Line takes you north to Tanga, Moshi and Arusha.
When taking the train in Tanzania, make sure to have plenty of time since extreme delays does occur quite often. Both on departure and even more along the line. Even so, it is well worth the ride since it is a great experience with amazing view and interesting people to meet. It is also and overall safer way to travel in Tanzania than by bus. Remember to book well in advance for first class tickets – at least two to three weeks.
Stikkord: Bagamoyo, Bed & Breakfast, Budget accomodation, Guesthouse